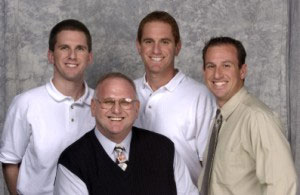 From left to right: Brett, Ken, Scott and Keith Levitt
Since 1972, Century Graphics & Metals has proudly been providing the sign professional with quality sign products and accessories. We owe special thanks to our loyal customers for their support through out the years and pledge to continue to offer the same quality products and high level of customer service to the industry for many more years to come.
As one of the nation's leading manufacturers of high quality metal sign frames, stakes, aluminum sign blanks, auto tags, and magnetic vinyl sheeting, Century is here for you! We offer a large variety of standard sizes and colors in our aluminum sheeting, and also supply custom frames for many individual customers. If you need something special, Century Graphics & Metals is here to help you.
We learned long ago that there is no substitute for quality. Those of us who have set their sights on building long-term business relationships know that you don't get there by cutting corners. That's precisely why we only use today's most advanced processes to produce all of your aluminum sign products.
We'd like to thank you for taking the time to look at Century's complete line of products and we hope that you'll call us if you have any questions about any of our products or services

Sincerely,